Dear Friend,
More babies are born healthy
Fewer babies are born prematurely in our country! In fact, the premature birth rate dropped for the sixth year in a row, to 11.5 percent. About 176,000 fewer babies were born early, and their families were spared the fear and heartache of having a baby in newborn intensive care.
We've just released our 2013 Premature Birth Report Card, which grades each state on its progress in preventing premature births. Six states this year earned an "A," and five others improved their grade from last year. We must continue to invest in premature birth prevention because every baby deserves a healthy start in life.
Throughout November and on Sunday the 17th, World Prematurity Day, help us spread the word about this serious problem. Find out more at marchofdimes.com/worldprematurityday.
---
Tell Congress to pass the PREEMIE Reauthorization Act
There's no better time than Prematurity Awareness Month® to tell Congress to pass the PREEMIE Reauthorization Act. This vital legislation will renew federal programs that fund research to identify the causes of premature birth and programs that help prevent it. The Senate passed the PREEMIE Reauthorization Act in September; tell the House of Representatives that it's their turn!
Send a letter to your representative
---
Meet Reagan Hedin
Scott and Amanda Hedin of Minnesota walk in March for Babies in honor of one daughter and in memory of another. Life-threatening complications caused twins Reagan and Eden to be born 3 months early. Eden weighed 1 lb. at birth; Reagan weighed 2 lbs., 5 oz.
Reagan grew bigger and stronger during her 7 months in the neonatal intensive care unit. Eden faced more obstacles and passed away at 8 months of age while waiting for a lung transplant. "We miss Eden so much and wish everyday that she was here with us," said Amanda.
Today, Reagan is a curious, sweet and loving 3-year-old. Amanda and Scott turned their grief into action by supporting March for Babies® and creating Eden's Garden, an organization designed to keep Eden's legacy alive.


Help protect the health of babies.

---
The Empire State in purple

In recognition of World Prematurity Day, the Empire State Building will light PURPLE on November 17 at dusk. Special thanks to the Empire State Building!
---
We Want Your Vote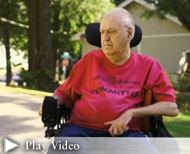 Longtime March of Dimes volunteer Don Post is competing to win a $100,000 prize sponsored by the NASCAR Foundation. The award is given to a NASCAR® fan who shows extraordinary dedication to a charity that helps children. Don is one of those special people, who gives enormous time and energy to the March of Dimes, working for stronger, healthier babies — in spite of his own physical challenges. Don has selected the March of Dimes as his charity of choice to receive the money if he wins. But first, he has to win. So please go to NASCAR.com/Award and vote for Don Post. You can vote for Don once per day until December 5th. Thank you, Don, for being an inspiration to us all.
---
The drive to help
babies survive®
Donate your car, truck, van, bus, boat or motorcycle to the March of Dimes and keep us on the road to finding causes and preventions for premature birth and birth defects. Fast, free towing from all 50 states! Donate and get a tax credit if you itemize deductions on your income tax return.